COVID has brought its own challenges
By BECKY GILLETTE
Zubair Ahmed, MD, an interventional cardiologist at Washington Regional Cardiovascular Clinic, part of the Walker Heart Institute, was born and raised in Pakistan with three sisters. As the only son, he went into medicine to fulfill his parents' wishes.
"My father was a commander in the navy and worked as a software engineer," Ahmed said. "My grandfather had a heart attack in the 1980s and the treatment offered was bed rest with pain medications. He did not survive 48 hours, which had a significant effect on our family. My father wished for me to be trained in the best place in the world to become a cardiologist and be able to serve people to make a difference in people's lives. His belief was firm in, 'And whoever saves a life it is as though he had saved the lives of all mankind.' (Quran 5:32). This was my motivation to pursue medicine as a profession."
Early in medical school, he was intrigued that the heart is remarkably simple to conceptualize as a pump, but has significant complex architecture ranging from electrical, mechanical and vascular components working in synchrony to maintain its function. A sudden change in normal functioning of the vasculature can lead to immediate cessation of heart function and death.
"Being able to intervene in a minimally invasive way to restore this function that is life-saving in an emergency is gratifying at a personal, professional and humane level," Ahmed said. "The impact cardiology has on society appears to be the biggest, given the prevalence of cardiovascular disease, and it truly serves as a life-saving intervention. Being able to serve in that role as a cardiologist is a privilege that is rarely surpassed by other professions."
After graduating among the top ten in a class of 260 at Nishtar Medical College in Pakistan, Ahmed completed his internal medicine residency at Quillen College of Medicine at East Tennessee State University where he served as chief medical resident. After completing residency, he completed a cardiology fellowship at the same institute and was appointed chief cardiology fellow. After completing the general cardiology fellowship, he trained as an interventional cardiologist at Baystate Medical Center in Springfield, Mass., which at the time was part of Tufts University, and is now part of the University of Massachusetts Medical School.
"After finishing my interventional cardiology fellowship, I joined the University of Arkansas for Medical Sciences/Veteran Affairs Medical Center as assistant professor and director of cardiac catheterization laboratories," Ahmed said. "After working for four years in Little Rock, I moved to Fayetteville and joined Washington Regional in 2016."
Currently, he serves as the director of cardiac catheterization laboratories and practices as a structural/interventional cardiologist at Washington Regional's Walker Heart Institute. His scope of practice and interests include vascular interventions for arterial and venous disease, complex coronary interventions, minimally invasive heart valve replacement and repair including TAVR, MitraClip and septal defect closures.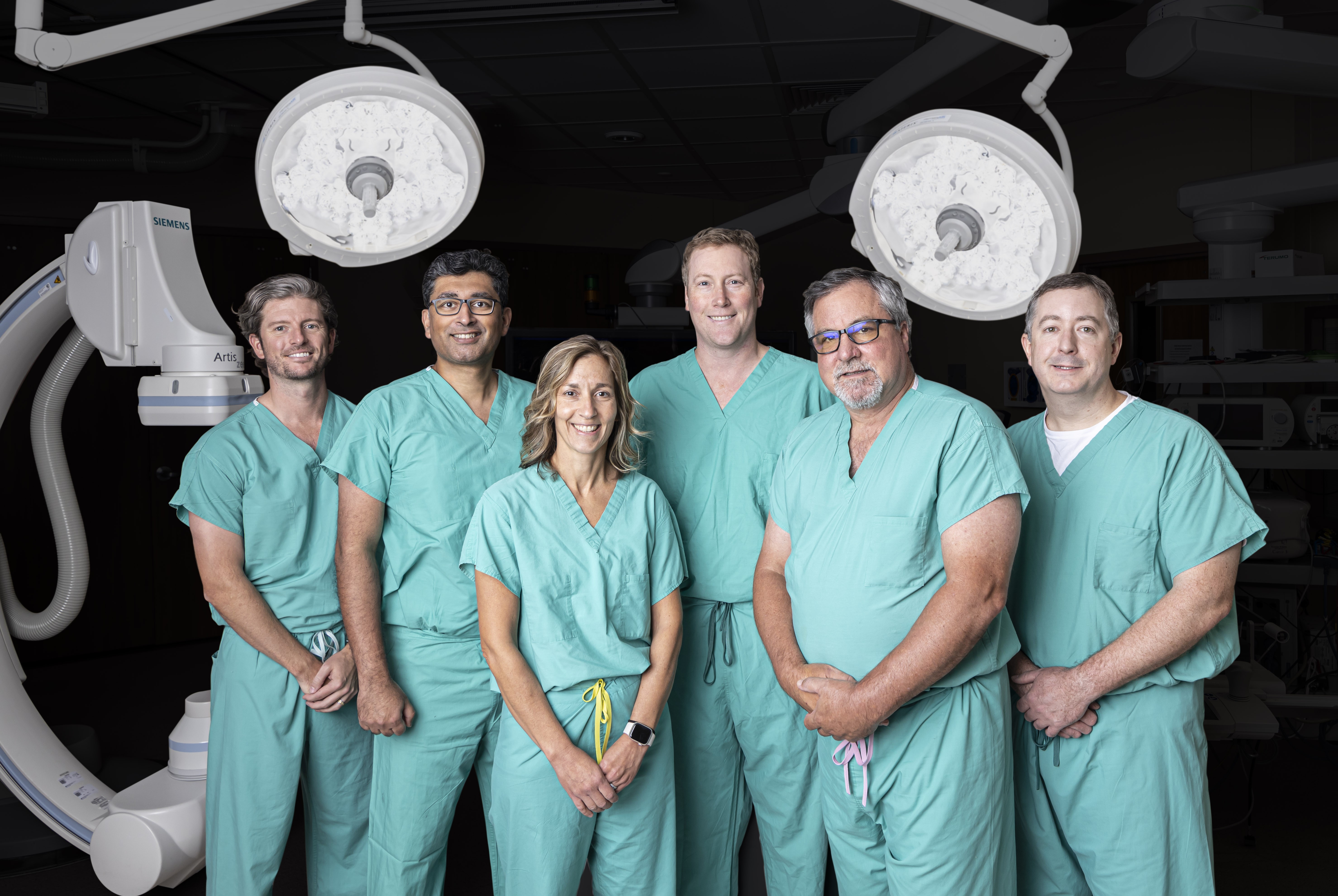 Washington Regional TAVR team: Erick Isaacson, DO (anesthesiologist); Zubair Ahmed, MD (interventional cardiologist); Kari Schrank, APRN (structural heart program coordinator); Charles Cole, MD (cardiovascular and thoracic surgeon); Russell Wood, MD (cardiovascular and thoracic surgeon); Scott Chism, MD (interventional cardiologist)
Ahmed said among all medical fields, the cardiovascular specialty remains at the forefront for advancements in technologies with remarkable breakthroughs achieved across a wide spectrum extending from cardiovascular imaging to bioengineering mechanical products. Some examples include minimally invasive procedures like transcatheter aortic valve replacement (TAVR) where a new heart valve is implanted without open heart surgery, and the patient is typically able to go home the next day with a new heart valve and without a scar.
"Other breakthroughs are in procedures like MitraClip for patients with a malfunctioning mitral valve who otherwise would have no options left," Ahmed said. "This minimally invasive technique leads to mechanical repairs done just with access through a vein in the leg. For patients who are at high risk of stroke due to atrial fibrillation not caused by a heart valve problem, the WATCHMAN™ Implant is a minimally invasive procedure that gives patients a permanent alternative to blood thinners.
"There are also lasers, mechanical drills and stents to open up blockages in blood vessels of the heart and limbs which allow the blood supply to be restored. These technologies allow the vessels to be accessed through a 2 mm entry point in the wrist or groin. Artificial heart pumps continue to be miniaturized and can be temporarily placed in emergency situations through blood vessels in the groin. Within minutes of placement, these devices can take over the pumping function of the heart. These are only some of the technologies that have evolved in recent years."
There are concerns about people who can have long-lasting health problems from a COVID infection. Ahmed said although the percentage of people affected with symptoms of long COVID beyond a year is low, this becomes a sizable group because of the large number of people who have been infected.
"Cardiac symptoms most commonly described are shortness of breath, fatigue, fast heart rates and chest pains," Ahmed said. "While the incidence of true cardiac involvement as a direct effect of COVID remains low, it does lead to significant debility in both the short term and long term. Research is currently limited, but initial data suggests that people with more severe acute COVID infections have more risk of developing cardiac problems and that milder infections are less likely to cause long-term cardiac problems."
As the medical community continues to learn and understand the long-term effects of COVID, there has been recent hope based on research that suggests continued improvement in long COVID symptoms even beyond a year. To support patients experiencing symptoms, Ahmed encourages continued exercise to build endurance, pulmonary rehabilitation, a thorough cardiac evaluation and continued follow-up with caregivers.
Ahmed also works to encourage lifestyle changes in patients to encourage people to lose weight and better manage their cardiovascular health. His personal strategy to address this issue with patients includes providing education and helping patients build confidence.
"A positive outcome depends on patients understanding and accepting the fact that obesity contributes to numerous health issues, including cardiovascular disease," Ahmed said. "Some patients mistakenly believe that decreasing their caloric intake alone can help them lose weight. Educating the patient about the need for diet with exercise is important. Setting realistic goals and expectations can go a long way in helping patients be persistent and persevere in creating long term overall lifestyle changes. Clearing myths about magical weight loss pills and other expensive dietary plans are also important."
He is concerned that childhood obesity remains a pandemic. The earlier intervention occurs, the better from a cardiovascular standpoint.
Recent studies done by the Northwest Arkansas Council suggest that the number of medical specialists in the region, including cardiologists, is lower per 10,000 residents when compared to other areas across the country.
"As Northwest Arkansas has the state's highest population growth, cardiology practices in our community are at times challenged, but Washington Regional's Walker Heart Institute continues to grow with active recruitment strategies in place to keep up with the growth and demand," Ahmed said. "At Washington Regional's Walker Heart Institute, we have a great group of cardiologists, advanced providers, nurses and support staff with a patient focused commitment to offer the latest and best in care to the community. It's one big family here where individuals help each other out and make it a great place to be."
Ahmed said his goal and vision to improve cardiovascular outcomes in Northwest Arkansas are supported by the administration.
"We've been able to offer many 'firsts' in the region," he said. "Examples range from the successful launch of minimally invasive structural heart interventions like TAVR and Watchman appendage closures in the past few years, to being the largest cardiovascular center in Northwest Arkansas in terms of volume and providing these technologies to our patients. In late January, we had the first mitral valve repair done with a minimally invasive mitral clip procedure in Northwest Arkansas, another milestone and achievement only made possible by the support of the dedicated staff and colleagues at Washington Regional. The opportunity to help start these programs and then be part of the journey is a blessing and matter of pride professionally."
Ahmed has been married for 15 years to Umbar Ghaffar, MD, a nephrologist at Renal Specialists of Northwest Arkansas. They have a daughter, Mishaal, 14, in the 9th grade at Haas Hall Academy and a son, Musa, 11, in the 6th grade at The New School. In his free time, Ahmed likes to travel and read fiction.